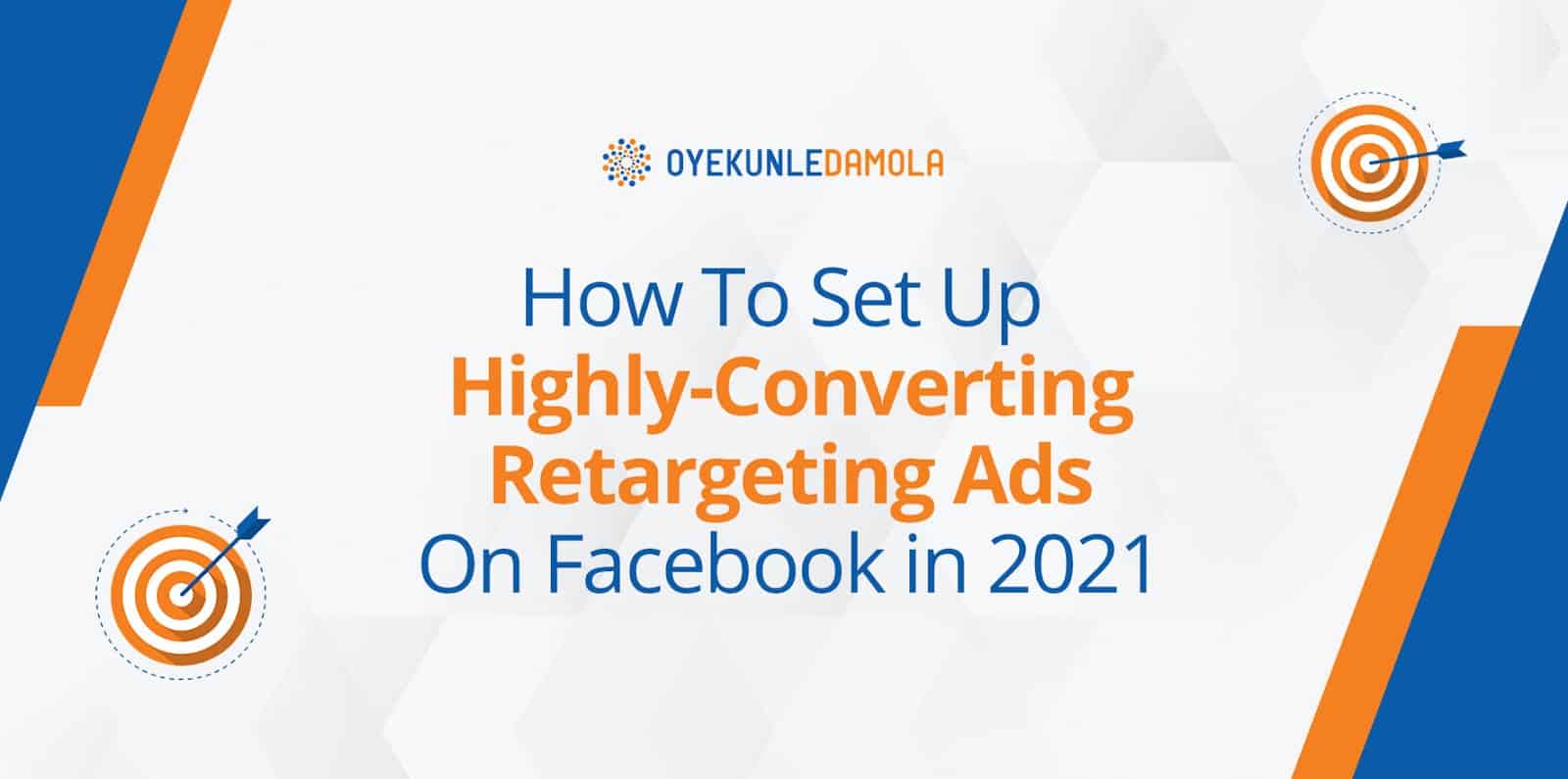 Introduction
Have you noticed that people don't usually buy a product the first time they see an ad about it. If you have been paying attention then you will have realised that your audience needs to see your ads more than once before making a purchasing decision.
It then makes sense that you want to be able to effectively reach the ones that have indicated interest in your products but are yet to make a purchase.
How?
Well, in this article, I'm going to show you how to run highly converting retargeting ads on Facebook.
In fact, these are the exact techniques that I used to run a retargeting ad with an ad spend of $59.86 and made $701. 63! .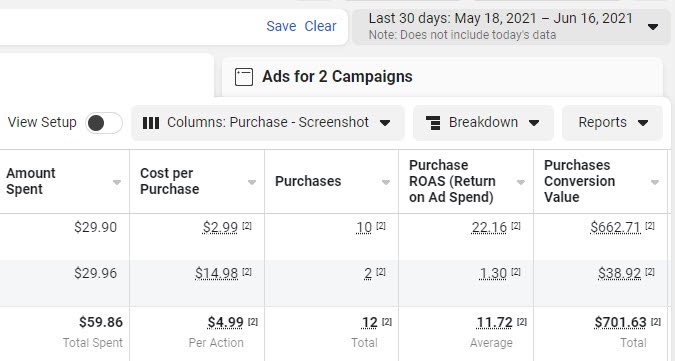 Let's dive right in.
What are Facebook Retargeting Ads?
Facebook retargeting ads are ads that allow you to connect with customers who have already interacted with your brand in one way or another. They are effective in sending a more personalised message to your ideal target audience.
These are users who have:
Shared their contact information (email) with you, either as leads or customers
Followed, liked or commented on your Facebook page
Interacted with your app
Watched or commented on a Facebook or an ad video
Interacted with your Instagram page
Visited your website or taken some form of action on it
Interacted with a Facebook event
The purpose of retargeting ads campaigns is to recapture your audience's attention and redirect them back to your purchase funnel.
It could be that you want to retarget those who got to your purchase page but didn't go any further. Or maybe they just checked out a particular product but didn't add it to cart.
Either way, the best retargeting strategy will be to display ads offering them a tempting incentive like free shipping or a discount.
Remember, they have already shown interest in your product-your goal is to entice them into making a purchase decision.
With Facebook retargeting ads, you can advertise to potential customers and lost leads using either your pixel data or list data. So let's quickly take a look at Pixel data retargeting
Pixel data retargeting is a way of displaying your ads to any anonymous website visitor.
Here is how it works: When someone visits your website, a pixel is placed on their browser (known as a cookie) which allows you to know what kind of activity they perform on your website.
When they then leave your site to browse other sites, that cookie allows you to display retargeting ads to them depending on the specific pages they visited when browsing through your site.
With pixel-based retargeting, you can easily deliver timely and behaviour based ads to your website visitors.
On the other hand, list-based retargeting ads are ads shown to people in your database.
What you do here is upload a list of email addresses of your existing customers and then Facebook will locate those people and show your retargeting ads to them.
How effective Are Facebook Retargeting Ads?
Retargeting ads can be a powerful digital marketing strategy. They are what allows you to strategically reengage a potential customer till they perform a purchase.
According to Adroll, only 2% of customers convert when they first see your ads. Retargeting ads is your chance to convert the remaining 98%.
Here are some statistics about retargeting ads
Website visitors who are retargeted are 43% more likely to convert.
The click-through rate for retargeted ads is 10x higher than the CTR of a typical display ad
While more expensive, retargeted ads have a higher conversion rate than display ads
With these statistics on how effective retargeting ads can be, it makes all the sense that as an advertiser, you want to dedicate part of your marketing budget to retargeting efforts.
Now, how do you set up a highly converting retargeting Facebook ad?
Let's start with step 1
Step by Step Process To Create A Facebook Ads Retargeting Campaign 2021
Step #1 Collate data from pixel/ create a list of existing contacts
This is your source of data and is what Facebook will work with when setting up your retargeting ads.
You need a list to retarget to and so, you want to first create a database of your existing customers and leads.
You can then segment the list based on the activity they have carried out or their interests or customer journey.
If you haven't installed the Facebook pixel on your website then you need to do so before you can start running retargeting ads.
Without this pixel, you won't be able to track your website visitors and run retargeted ads to them.
To set up your pixel:
Go to 'business settings' in Business Manager
Select your business
Click on data sources
Select Pixels
Click the + Add button
Type in a name for your Pixel
From here, you can follow the prompts to complete setting up and adding your pixel to your website.
P.S. You can make your pixel track specific actions on your website such as :
Add to cart
View content
Initiate checkout
Purchase
When you select any of these customized options, you can easily copy and paste the code into your existing Facebook pixel code.
Otherwise, you can simply select the basic option so your pixel can track any kind of action on your website.
Once you have properly set up your pixel, you are ready to start running retargeting ads.
P.S. You need to keep running ads to keep feeding your retargeting audience or you would burn them out by showing them the same ad over and over
P.P.S. Due to the recent IOS 14 update, Facebook is not able to track your audience as well as they could before due to IOS' restrictions
Dive deeper: iOS updates and Facebook ads: All you need to know
Step #2 Create your custom audience
With your pixel set up, you can now create a custom audience of your website visitors and segment them based on similar actions and behaviour.
Here is how it works: once you are on your ads manager platform, you want to click on 'Audiences' on the left toolbar and select 'custom audience'.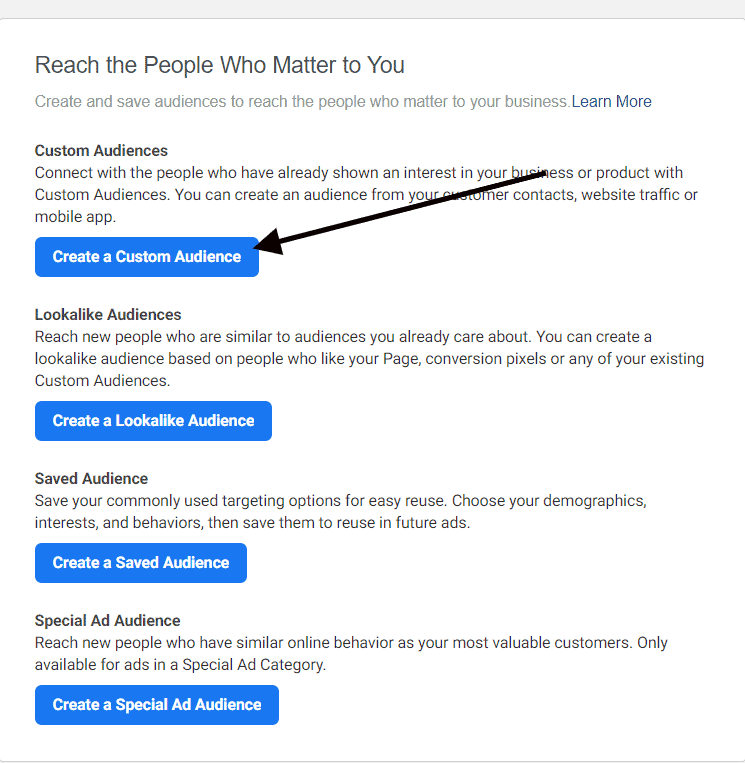 There are few options available to you from here, depending on where you want to source information for your custom audience: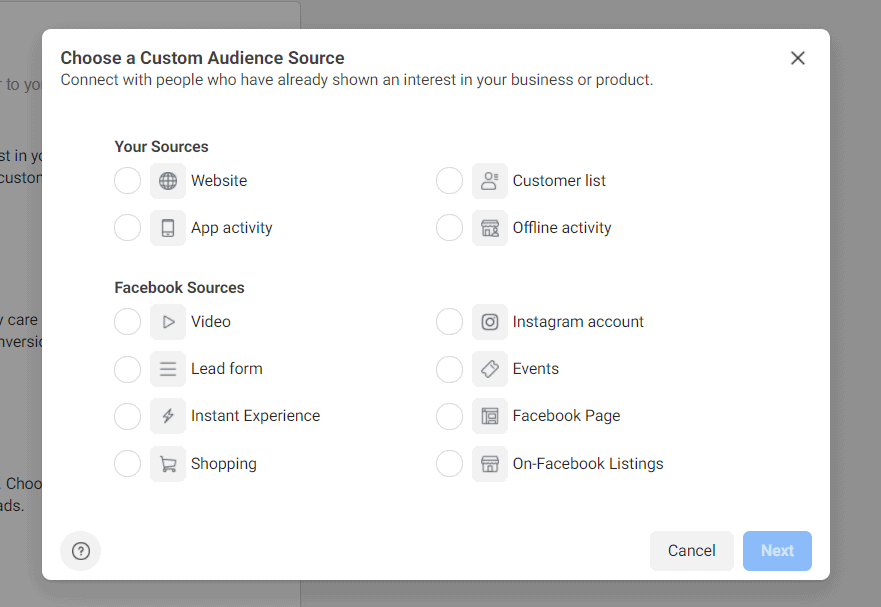 Website traffic
For website traffic, you can retarget those who have visited your website. Once selected, you can have the option of retargeting:
Anyone who visited your page
People who visited specific pages on your website
People who visit specific pages but not others
People who haven't visited your website in a certain amount of time
Custom combination
Customer list
You can also retarget people on your customer list using data you have collected from them-name, email addresses, phone numbers etc.
This will then allow you to upload a customer. CSV or '.TXT file of your customer list. You can also find options there to sort them by userID, phone number and email addresses.
Once sorted, you can name your list and leave it for a few hours to populate before running your retargeting ads.
App activity
You also have the option of retargeting those who have interacted with your app. To do this, you have to add a piece of code into your app that allows you to track people interacting with it.
By adding this code, you can track app launches, purchase, add to card and custom events.
Offline activities
These are your in-store customers i.e. people who are engaging with your business offline.
To retarget these ones, you will need to set up offline conversions and periodically upload data about the behaviours and actions that your audience is completing offline.
Step #3 Select your campaign objective
So you have your custom audience set up. Your pixel is properly tracking data. It is time to run the actual retargeting ads.
Just like normal ads, you start by selecting your campaign objective. This is your goal for running the campaign and will decide how Facebook delivers and optimizes your ads.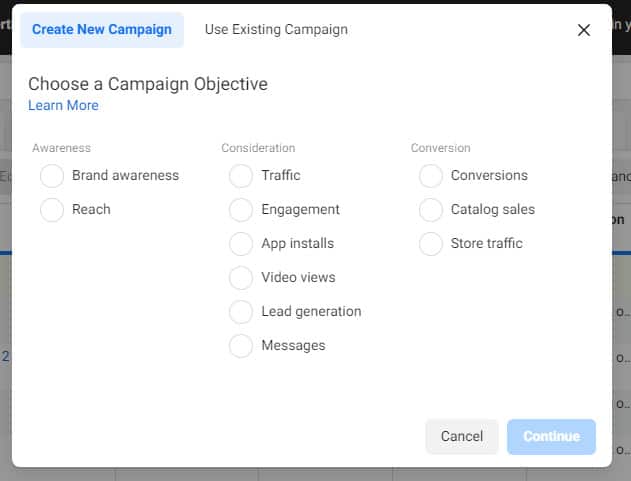 For retargeting ads, you can either select traffic-if you are trying to reach the most number of people and encourage them to go back to your store or you select the conversion objective to get people to complete a purchase.
If you select a conversion goal, you will need to select your created pixel to track your visitor activities.
Once you have selected your objective, you want to name your campaign and then click on 'continue'.
Dive deeper:
Step # 4 Select your custom audience
The next step is to select the custom audience you previously created. Here, you can select the time frame and also exclude certain audiences if you wish.
For example, you could select people who have visited your website in the last 30 days and exclude those who have visited in the past 5 days or so.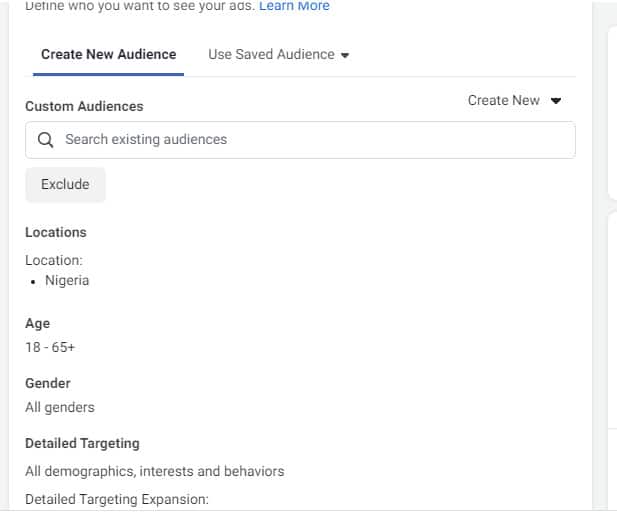 Step # 5 Select your ad placement
Now it's time to determine where your ad will be shown.
You have different options here ranging from your Facebook news feed and Instagram to instream videos and Instagram stories. You can always select and exclude any placement as required.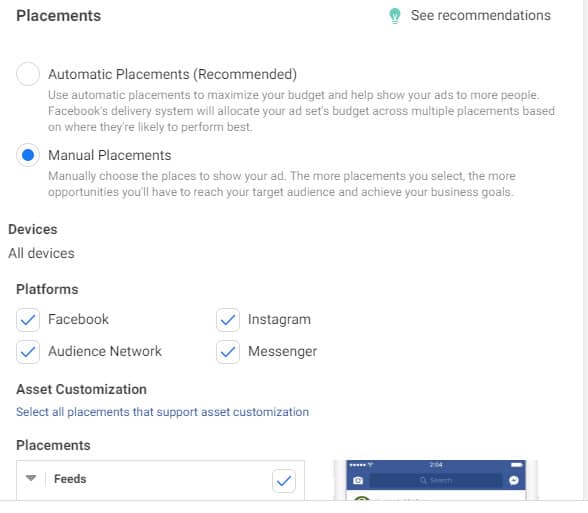 Step #6 Set your ad budget
You will need to select your budget to run your retargeting ads campaign. You can either select 'campaign budget optimization or not.' When you do, your ad budget is set up at the campaign objective where you then select a lifetime or daily budget.
When it comes to budget, you can always start small and then scale from there. Really, it depends on your industry and how much you are willing to invest in your ads.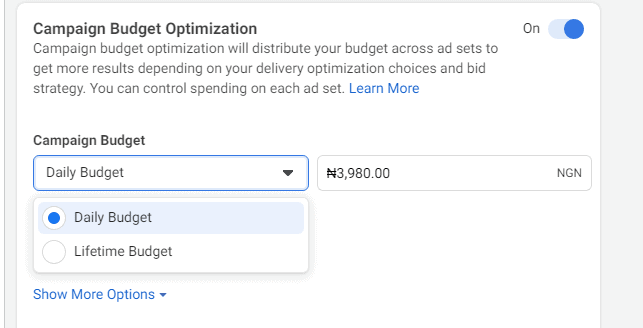 Step #7 Set up your ad creative
Select the ad format you want to use, set up your ad image and create your copy.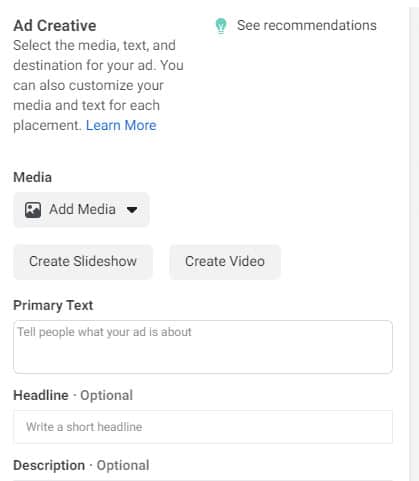 Remember, you are trying to motivate your audience to take action. This means you must be willing to invest in a compelling copy coupled with a high-quality image.
Next, include the URL you want people to navigate to. Click confirm and then wait for your ads to be reviewed and approved.
And that's it! Your retargeting ads will be shown to people in your custom audience.
Ready to start running retargeting ads on Facebook?
There is a reason why retargeting ads are a goldmine to many advertisers. They are effective in boosting sales, conversion rates and ultimately giving a good return on advertising investment.
A retargeting ad is your chance to remind your potential customers of your offer and help them move towards that purchase.
Have you ever run retargeting ads on Facebook? Did you get as many results as you hoped?
Let us know in the comment section below!
And….
If you would prefer a more practical version of how to set up a highly converting retargeting Ads…
Where you watch step-by-step how it's all set up live in a video; you can watch How I made $3,742.52 from $35.64 adspend in just 7 days with a single Facebook™️ Ads Campaign and how you can replicate it for your business…
Then you should really check this out