When was the last time you made a purchase online without first checking out the reviews? Even if for some reason, you don't, your customers definitely do!
According to a survey by BrightLocal, 94% of customers say reading a positive review of a business makes them more likely to patronize that business.
When it comes to making more sales in your online business, generating positive reviews is essential and can be key to expanding your reach and meeting your conversion goals.
Reviews are powerful and real-life experiences of your customers on your website can greatly influence your prospective customer's buying decision by convincing them that your product/service is a good fit.
Like you, your customers are social creatures and are more likely to be influenced by the experience of others like them. What this means is that your reviews can build and establish trust with your audience which can then convert to more sales.
In addition, reviews can be good for SEO by helping you rank better. Now, when people drop positive reviews on your website, Google recognises the keywords they use as fresh content and is most likely to rank you for them.
So you see, this will ensure people can find your business easily when they search for your product or services on search engines.
Let's check out 10 creative ways you can generate positive online reviews for your business.
#1 Ask Your Customers Directly
As long as you provide an excellent service, your customers will be encouraged to leave positive reviews for you.
Every customer matters and it's important that you help them have a seamless and most convenient experience with your business. This way, you are building a list of loyal customers who will be willing to refer you to their friends and families.
When you provide an excellent service, they will also be motivated to respond to your request for positive reviews about their experience.
There are many ways to ask your customers for reviews and it makes sense to explore as many as you can so you have a steady stream of reviews coming in from different sources.

You can ask for reviews from your users in-person. This can be effective if you have a walk-in store or a physical location for your business. You can do this by asking them strategic questions about their experience with your brands.
Some great questions to ask include:
Did you find everything you were looking for today?
How was your experience in our store today?
Is this your first time using this product? What has been your experience with it?
Their responses will give you a feel of their experience and you can then proceed by asking them to drop an online review. You could say something like:
Hi, [Customer's name] it's great to see you again. If you have a minute while you're here, I was hoping you could do me a favour. We're trying to get some more [Google / Facebook / Yelp / etc.] reviews on our page—could you put one in? Just put this link on your phone or search for our page. We'd really appreciate it!
You could also ask them on social media or via emails which will be discussed in further details later on in this article.
#2 Give Something in Exchange to Motivate Customers
Offering a good incentive (like a discount or coupon code) is a great way to motivate customers to leave reviews.
You could offer incentives like a monthly giveaway where you pick a customer then giveaway a product for free. You can then ask them to leave a review after using the product.
Also, you could offer discount prices or coupons to encourage them.
Note that the goal is not to bribe customers to leave just positive reviews but to encourage them to take time out to talk about their experience with your business.
Check out how Piperlime, an online retail company, used this tactic to encourage their customers to take their reviews.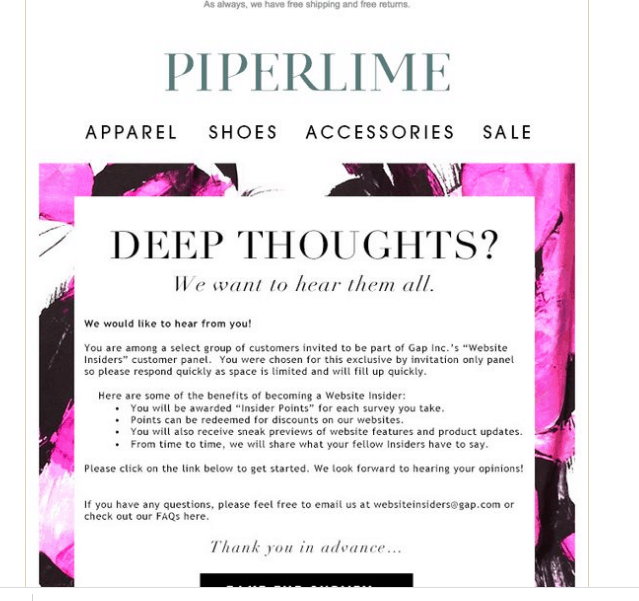 Notice that they aren't asking people to drop just positive reviews in exchange for a coupon? They stated clearly that if you take the survey, you automatically qualify for discounts and will also receive sneak previews of the product updates and website features.
Also, in this copy, they indicated that their customers could leave any kind of review that showed their experience with their business.
This way, your customers won't be pressured to drop just positive reviews. But as long as they are happy and are offered a good experience, then their reviews will reflect that.
#3 Run Email Surveys For New Customers
Email surveys offer more flexibility and are more cost-effective than other channels of generating surveys.
This can be through a review email campaign targeted at those that have just patronised your business.
You simply send an email message to your email list of buyers containing a link through which the buyer can drop a review.
Surveys are an easy way for even the laziest customer to drop a review.
Check out this example from Macy's, a fashion clothing and accessories brand.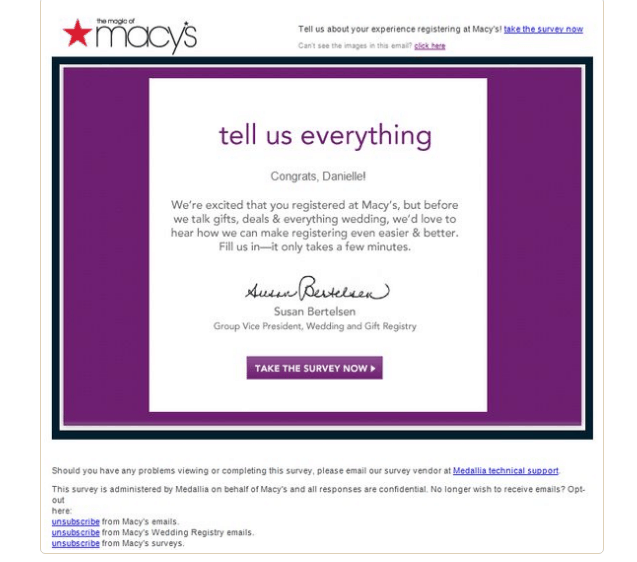 By taking up the role of a listener, they prove to their customers that their feedback is important and that they are paying attention to them.
Notice how they even specified that it will only take a few minutes to fill the survey? That's an important factor to include as your customers don't want to spend hours trying to fill up a survey.
If you have never built a survey before, websites such as SurveyMonkey, surveyplanet, SurveyGizmo etc. are a great place to start.
When composing a review request email, you want to be sure to personalize it as this could increase your open and request rates.
Customers will feel better when they see you have sent an email that is targeted to them specifically. This shows interest and can be key in building trust and increasing customer loyalty.
Also, you want to keep your survey short and to the point. Your customers are busy people and are more likely to be turned off if your survey contains too many questions and asks for so much information.
Avoid unnecessary or vague questions that aren't clear to the average users. You could also leverage ready-made email review templates to inspire you when crafting yours.
If you receive negative responses after asking for reviews, resolve them immediately to win customer loyalty and avoid negative word-of-mouth.
The best practice is to respond immediately and let them know you are working on the issues they pointed out.
Most importantly, test, measure and adjust till you find the perfect campaign that brings the best response rates and collects the most useful results.
#4 Monitor Social Media Channels
Social media channels allow you to build an interaction with your customers, creatively generate positive reviews and respond to them immediately.
By posting and monitoring your customers' responses on these platforms, you can gather reviews from them. Knowing how to ask for reviews on social media can be valuable.
However, you must build interactive communication with your followers. When your brand is known for being responsive and for posting informative content, people will be more encouraged to drop reviews.
You could leverage social media platforms such as Facebook, Twitter, LinkedIn, Instagram.
You also want to vary your review request to fit the tone of any platform you are using.
For example, LinkedIn is more professional and so, you want to adopt a more professional voice and slightly longer tone that best resonates with your brand voice.
Also, because it can be time-consuming having to respond or monitor all of your social media platforms manually, there are social media monitoring tools like Hootsuite, Google alerts, Review Inc, etc. that allow you to monitor and respond to conversations about your brand.
These tools make it easy to track every conversation, keyword, account and hashtag related to your business all in one place.
You can easily post and share positive reviews and also respond to negative ones immediately.
Here is a good example of great customer service on social media from Southwest airlines: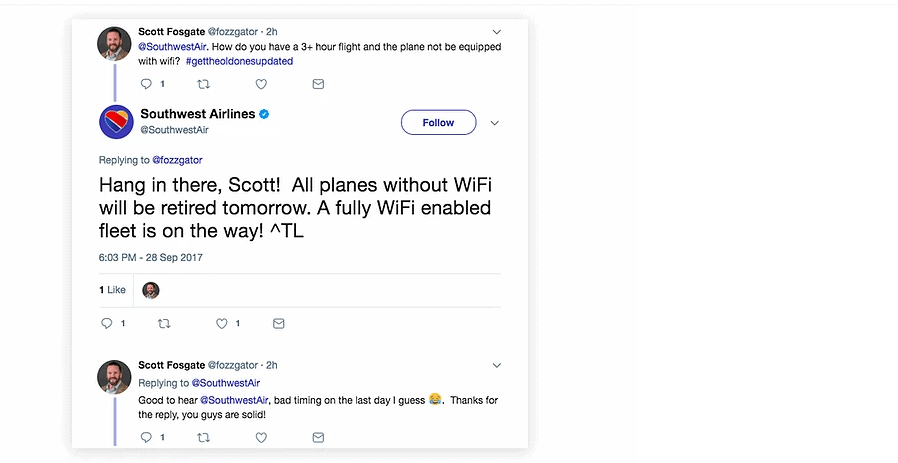 #5 Create an Online Community
Creating an online community on your website or social media can be a great way to build customer relationships and generate reviews.
With an active online community, you can always interact with your customers and get constant feedback and reviews.
When you create such a community, you are providing an effective medium to reach out, learn more and build a relationship with your target audience. It can also be a great way to drive product innovations-your customers are the best people to tell you what changes need to be made to your existing products while also suggesting new ones.
Also, an understanding of your customer's problems can guide you in creating a marketing copy that best appeals to them.
When it comes to gathering reviews, this is one of the best platforms for it. You can easily address negative ones while highlighting positive ones on your website and across all social media platforms.
You can easily set up an online community for your brand on social media platforms such as Facebook, Instagram, Twitter or even Tiktok. These are public social networks and anyone can join as long as they have an account.
Check out how Airbnb created a community for a particular group of their customers-the hosts. This community is hosted on their website with close to one million members.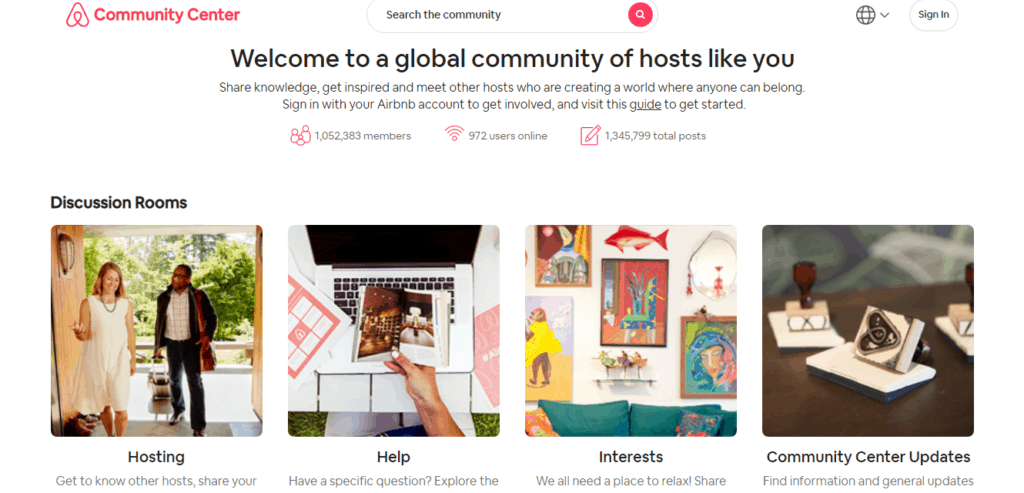 The goal here is to encourage discussions that are valuable and relatable to both new and upcoming hosts. Also, it is a great platform to provide support, address local issues, give feedback and build credibility.
#6 Partner with Local Bloggers and Vloggers
If your business is offering physical products for sale, partnering with successful bloggers and local influencers can be a great way to generate reviews and increase brand awareness.
Also, because they have been able to develop a large following, using and reviewing your products allows you to reach a wider audience and generate more sales.
Before reaching out to any blogger, you first want to consider if they are relevant to your brand. It makes no sense to reach out to a blogger that is in the fashion niche when you are a tech or food company, just because they are popular.
The collaboration needs to suit your brand perfectly so you want to pay attention to influencers in your niche.
For example, if you are selling toys for children, then you want to reach out to family bloggers.
Once you have generated a list of potential bloggers in your niche, you want to research them. Check out their social media pages, their interactions and how well their audience relates with them.
You also want to be sure their audience fits the brand persona of your business. You can then reach out to the ones that fit your brand's needs by sending a well-crafted, concise and personalised email.
Here, you introduce your brand, what you do and explain what you both stand to gain from the collaboration.
Here is a sample email you can send: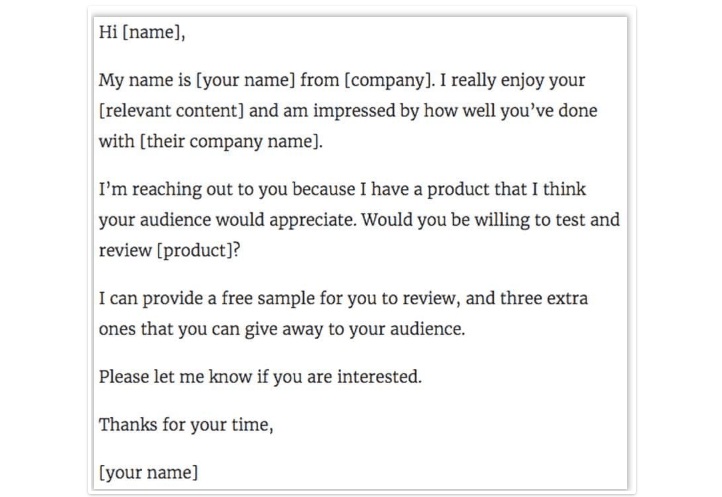 #7 Respond to Negative Reviews
If a customer had a bad experience with your business and leaves a negative review, you don't want to ignore them.
The best practice is to thank them for their feedback, apologize and offer them something to make up for the experience.
Bad reviews hurt and can be painful to read but your response can transform the situation, not only for the person dropping the negative review but also for others reading it.
The key is to transform a negative review into a positive one.
When addressing a negative review, you want to start by thanking the reviewer, address them personally using their first name, thank them for their review then apologise for their bad experience.
Even if it's not your fault, apologising can be key in building trust between you and the customers.
The next action is to take responsibility for what happened and then provide a way to fix things- either by offering them free products or an exchange.
Here is a template you can use:

Dear [NAME OF REVIEWER], thanks for sharing your feedback. We're sorry your experience didn't match your expectations. It was an uncommon instance and we'll do better in the future.
Please feel free to reach out to [INSERT CONTACT INFORMATION] with any further comments, concerns, or suggestions you wish to share. We would love to make things right if you give us another chance.

Check out this restaurant that was able to respond professionally to a customer's bad experience.

#8 Create Different Spaces for Customers to Leave Reviews
Unless they had a bad experience, the average customer won't go out of their way to leave a review for your business.
So, what do you do?
You want to make it easy for them to leave reviews by creating different spaces for them to do so. You could include a link to your website that your customers can click on which then brings them directly to your review platform.
You could also include a link to your review platform when you send out emails. This will make it easy and simple for them to drop their reviews.
Here is an example: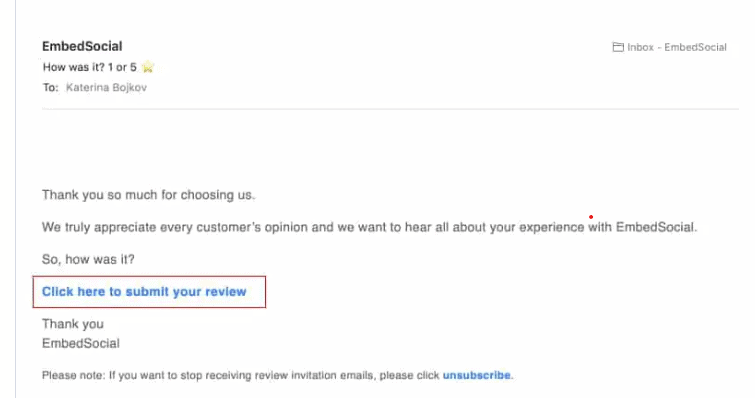 #9 Provide a responsive live support
Live chat is an effective customer support system as it allows you to connect with your customers in real-time, directly on your website.
Even if you have phone, email and social media support, your business still needs responsive live chat support.
Studies show that live chat support has increased conversions for most businesses.
Using an automated live chat box allows you to answer prospective customers' queries instantly and convert them into paying customers.
Brands have discovered that businesses who engaged in a chat were almost 5 times more likely to buy than those who didn't.
When it comes to generating positive reviews for your online business, providing efficient support for your customers can greatly influence them.
Because live chat support is fast, free and conversational, there is an increase in customer satisfaction which invariably leads to more positive reviews and experiences.
Also, you can take it a step further by embedding surveys into your chat box which allows customers to easily drop their reviews and leave a rating for your business.
There are different software you can use to embed live chat support to your website. You have tools like LiveChat, Chatbox, SendinBlue etc. which allows you to set up your own live chatbox on your website. You can easily chat with your customers and even add survey forms to evaluate their experiences.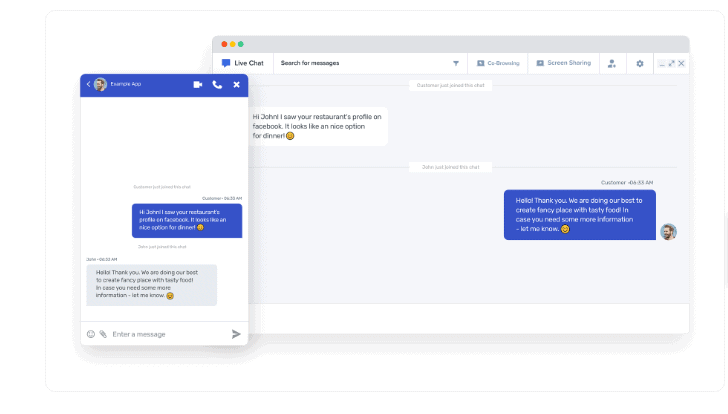 #10 Provide customer feedback forms on your site
A customer feedback form is used in obtaining feedback about your product, services or business. It is used in generating reviews to better understand your customer's experience and identify areas of improvement.
Feedback forms can appear as panels, slide-ins or modal pop-ups on your websites and can be presented as either customer satisfaction surveys or user experience questionnaires.
The best customer feedback forms are user-friendly, simple and contain the key questions that help businesses understand a customer's overall experience with your brand. They should also include different types of questions so there are different ways for your customers to leave their feedback.
There are two ways to create and use a feedback form on your site. You can either build yours from the scratch or use a premade online quiz template.
Regardless of what option you decide on, you want to ensure that your form is easy to fill. Use a lot of white spaces to help give it a clean look and reduce reader fatigue.
Also, avoid making any field mandatory as this can be a turn off for most users. You also want to invest in a responsive mobile design feedback form to make it easy for your forms to be filled out on any kind of device.
Here is an example of a simple feedback form template from jotform. You can easily download from any of their templates and embed it on your website.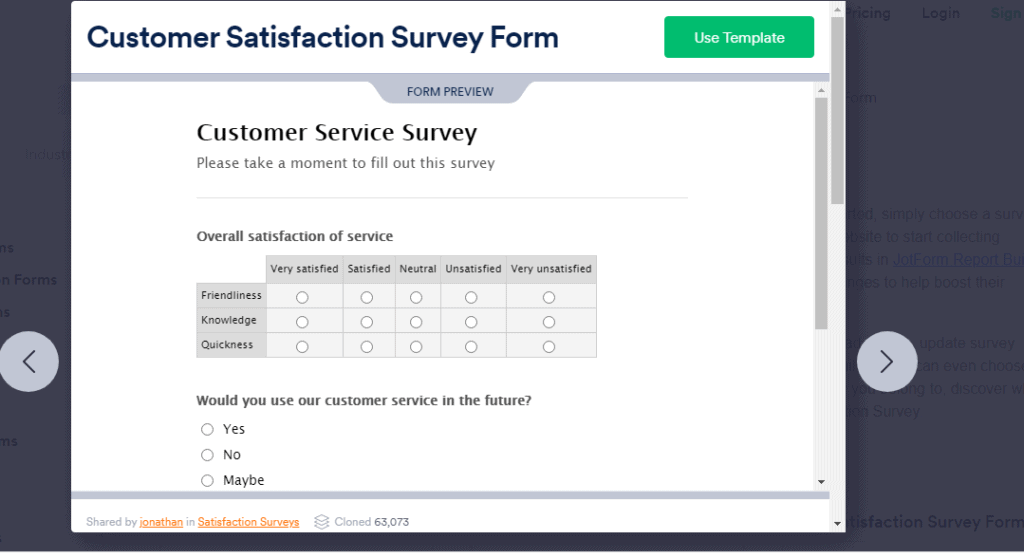 Notice how it contains clear questions that help any brand know more about their customers and to access their satisfaction level.
Summary
Review generation should be a key part of your content marketing strategy as it is essential for your brand's reputation, ranking and sales.
So, follow these tips to help generate a steady flow of positive reviews that positions your business in the best way possible.