You have probably heard that SEO is extremely complicated and that doing the wrong thing can get you penalized…
But where can you find the most important things you should know?
Well, since you asked nicely, I have put together a Do's and Don'ts SEO Checklist you can follow to avoid being penalized by Google. It is basically an SEO best practices checklist
Some are popular.
Others are quite obscure.
But you can find them here.
1. Keyword in Title Tag:
Don'ts: Stuffing your keywords in your Title tag just renders it meaningless and makes it look spammy.

Do's: A good title tag, on the other hand incorporates your keyword and still leaves the Title completely readable and understandable. Make your title as descriptive and as enticing as possible. A good post title would improve your Search Engine Optimization and entice your audience to click on it because it sounds interesting and not just because it has the same keyword they typed.
2. Keywords in Meta Description:
Don'ts: Google has stopped using Meta Descriptions as a ranking factor so stuffing keywords in your description tag would not increase your search engine ranking position.
Do's: Your Meta Description is one of your last opportunities on the search engine results pages to attract a searcher to your site. If you do not put enough effort into writing a good meta description, you would end up missing out on good website traffic that can result in new leads or customers. Making your Meta Description readable and add a call-to-action to it would entice people to click on it more


3. Use of Meta Keywords: This got phased out a long ago so frankly using it is just a waste of time. They serve no purpose whatsoever. That being said, some tools still make use of it but search engines don't. For example, trying to rank for the Keyword SEO company in kolkata doesn't mean you should start writing different variations of that in your Meta Keywords tag.
4. More than one H1 Tag: H1 tags are usually used only for the page headings. Additional headings should be assigned to the H2, H3, H4 tags and so on. After dedicating an H1 tag to the page, you can divide your articles into sections which can then have H2 tags where you can now sprinkle some long tail keywords and LSI keywords into.
5. Junky letters and numbers and symbols in URL:
Don'ts: A bad URL structure would impair your rankings and keep your pages out of the search engine indexes.
Do's: Make sure you keep your URL clean and legible. Users should be able to read your URL and determine what that webpage would be about.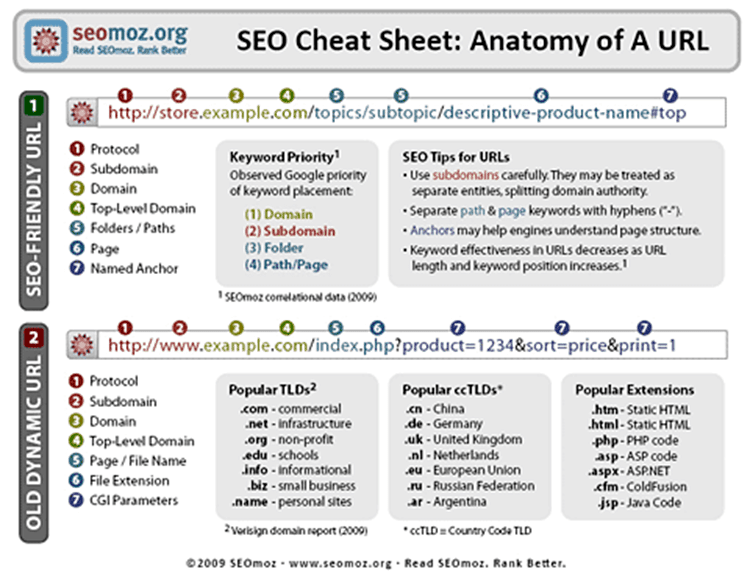 Above is a cheat sheet put together by Dr. Peter J. Meyers on the anatomy of a good URL.
6. URL Cloaking:
Don'ts: URL cloaking is similar to URL forwarding, but your URL will not change in the address bar. Do not try to present the search engines with a different set of content from the one your site visitor sees after clicking on your site. E.g. A user searching for "farming tool" clicks on one of the links on the search engine results and gets redirected to pornography.
Do's: Make sure every URL in your site is pointing to what it depicts. I.E http://yourwebsite.com/dog-food should point to a page that talks about dog food.
7. Keyword in Image Alt Tag:
Don'ts: Do not try to stuff your image alt tags with keywords all in the name of SEO. You just end up not even ranking for any of them.
Do's: Always use a descriptive alt tag for your images. The function of the Image alt tag is to act as an alternative information for an image if a user for some reason cannot view it (because of slow connection, an error in the src attribute, or if the user uses a screen reader).
8. Using Specific 'keyword density':
Don'ts: This method has been useless for years and would end up with you stuffing keywords into your article and getting penalized by Google for poor content.
Do's: A better option is to work with LSI Keywords. This would give you a wide range of keywords to get ranked for by Google. LSI (Latent Semantic Indexing) are keywords that are related to the keyword that you search for on search engines such as Google.
9. Low quality or Duplicate Content: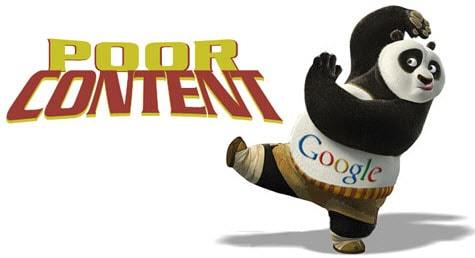 If you still have low quality or duplicate content on your site, the good ol' Panda is going to come knocking. Always make sure you update your website with content that is useful and unique.
Visitors are more likely to share good quality content and even link to them.
10. Using Keyword as anchor text:
While this seems like a good idea, it is actually a very bad one. Your anchor text needs to be diversified using partially matching and long-tailed keywords and anchors with synonyms.
11. Excessive Internal Linking:
When a page is linked to naturally, you have no issues with over-populating the page. This type of linking helps pass 'seo juice' to the receiving page.
There are different reasons why excessive linking is a bad idea. All in all, do not link indiscriminately from any page in your site.
12. Building Website For Search Engines and Not Users:
Don'ts: This is a pure no no. When you build your site for search engines, you end up sacrificing Usability. Visitors to your site would leave almost immediately and this would lead to a high bounce rate. When people enter your site via the Google search engine and leave almost immediately because your site is not user friendly, you site's ranking positions would drop to give way to other relevant sites.
Do's: When you create any page or post, focus on solving a specific problem for the user. When you create posts and pages with just search engines in mind, you end up doing a lot of keyword stuffing which would in turn lead to lower ranking.
13. SEO Friendly Website Architecture:
A website with an SEO Friendly Website Architecture would make navigation easy for both users and Search engines. It is about getting the best and most relevant content in front of your audience and reducing the amount of clicks it would take for them to find it. Find out more about what a site with friendly website architecture should look like.
14. Reducing Page Loading Time: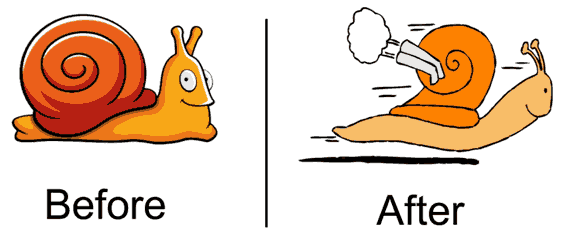 The Google Webmaster Team officially declared that they would start ranking sites based on their page loading time. Check your page speed on Gtmetrix and cache your website, enable gzip compression, compress images, minify Javascript, CSS files and more.
15. Use of Social Badges:
Use social badges so your users would be able to share your website and content socially and easily. It helps build up your social signal.
16. Case Studies, Customers' Experience, Testimonials and more:
Add real case studies, customers experiences and even testimonials of your previous work. This would help convert more visitors to customers. People are more likely to order your services when they see testimonials from real people.
17. Monitor Internal link Structure:
While backlinks from other websites are a huge part of your SEO strategy, the links on your own pages are also very relevant. The right internal linking strategy can do wonders to improve your ranking. Always link back to forgotten articles to drive more traffic to them. Remember to keep things in moderation.
18. Use of Google Keyword Planner for Keyword Analysis: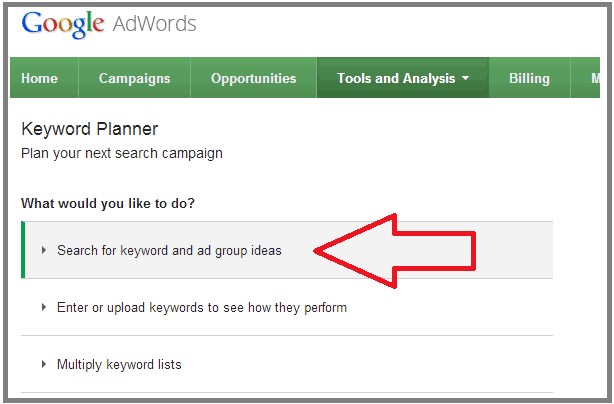 With Google Keyword Planner, you would be able to identify the keywords and long tail keywords you can target that have the right amount of average monthly traffic and medium competition.
[fancy_box id=5][content_upgrade id=2018]Download the free PDF Version of this article[/content_upgrade][/fancy_box]
CONCLUSION
I created this free search engine optimization tips so you can quickly follow it and make sure you are inline with SEO best practices.
This checklist contains some of the most important steps to take to improve your search engine ranking position and are completely actionable and easy to follow.
If you have other SEO tips, share with us in the comment box below 🙂