Making money from blogging is scary, right?
Are your readers going to hate it? Would they think you have decided to make your blog all about revenues?
In reality, monetizing your blog is scary. You are coming out of your comfort zone and taking a huge step forward.
The interesting thing is that any product you sell helps your audience improve. From advertising a restaurant to launching an email course.
Since you are helping your audience get better in whatever they do, you can as well make money from it.
If you are reading this article, it is probably because you have a blog or want to start a blog and you are interested in monetizing it.
You might already be making money from your blog and want to improve it.
From my experience, it is easier to think of it like 9 ways to help your audience improve their lives. Sounds better, doesn't it?
How to make money with your website 

How to implement those methods
How much you can make Blogging
Why making money blogging is easier than you think
Why your audience needs you to sell to them
Many people think of advertising as evil and intrusive. In truth, TV advertising is quite annoying because it is pretty much shoved down your throat and there is nothing you can do about it unless you want to stop watching your TV.
Want to know the best part?
With your blog, you have total control over what adverts show on your site. If you don't want it, it would not be on your site.
This makes it easy for you to choose products that will benefit your audience and are relevant to your blog.
I added this little Table of Content so you can easily scroll to any method you want :)
Things You Will Need to Start Making Money Blogging
A

B

log

:

Well, this goes without saying. If you don't know how to set up a blog, there are lots of guides online on how to set up a blog.

Very

Valuable Content:

One you start your blog, only write informative articles around your chosen niche. Your content needs to be relevant to your visitors. If it isn't, your visitors would not even stay long enough to read your posts and they sure won't buy anything from you.

Build Relationships:

While creating content on your blog, you need to start building relationships with different communities like social media, forums, commenting on blogs, etc. You should also talk to other bloggers in your niche, find people who would find your blog useful and communicate with them. Before you know it, you would already be an authority site!
So lets get on with the various ways you can monetize your blog
Method 1: Offering your Service
As it turns out, some of your readers would not mind you leading them by their hands and showing them what to do every step of the way. Offering your time and skill is an amazing and "common-sense" method to make money from your blog. You can make a lot of money by doing this as it has the highest profit margin since you are selling your time and not a product.
For example, a fashion blog can offer services like Styling and Tailoring. A health blog can offer services related to a dieting plan, etc.
How to Implement it on your Blog:
Freelancing

– Many bloggers offer freelance services such as website design, social media management, search engine optimization and more. If you are in the fashion niche, you could offer services like Styling, Tailoring, Modeling, Advertising other clothing lines and more.

Coaching, Consulting, and Training

– Promoting your skill and experience to deliver coaching and consultancy services is a very profitable way to make money online. No matter what your niche is, you can build up your profile and reputation on your blog. If you are good enough, people will hire you for Consultancy. Pricing and time spent on each service bore down to how good you are in your niche. You have full control over it.

Speaking

– This is another awesome way of increasing your visibility. Offline or Online. You can be hired to speak in a webinar or get invited to speak at a conference. Some of these events are not free. Either way, you get a wider range of exposure.

Donations

– Some bloggers have a tiny widget or sometimes a full page where they tell their users to show some love. Some popular WordPress Plugins like Akismet do it. There is no shame in doing it. You are providing good content to them free. Getting a cup of coffee for your effort should be no hassle.
Things you should know
The key to success in this method is to use your blog to highlight your experience to the point where people are willing to hire you so you can replicate your success in that field with their products.
You can give out a lot of your best stuff for free for those people who don't mind getting their hands dirty. In reality, many people would still not do it themselves. They would simply hire you.
The awesome part of this model is that you do not need huge traffic to make more money. You do need quality exposure from the right audience to hire you for your services. More clients = more money every month.
Method 2: Affiliate Marketing
Affiliate marketing is one of the most common methods of making money from your blog. A single sale can net you between $10 and $100.
Affiliate marketing is simply when you add a link to someone's product on your site and get a commission for anyone that buys from your link. There is more to affiliate marketing than this, but that is pretty much all it is about.
There are a lot of affiliate programs you can sign up for. You just have to be smart about what product or service you are pitching to your audience. With this method, it is usually in your best interest to not "overpromote".
How it works
You get links or ads from your chosen affiliate product and put it on your blog. You can also insert these links and ads in your email marketing campaign or create outright ads via Facebook and send people to your link.
How to Implement it on your Blog:
Select the product or service you would like to be an affiliate of (The list is numerous). You can check out Amazon Associates, LinkShare, Jvzoo. Others include your hosting companies, products you have purchased like SEMRush,Thrive Leads and more. Other companies like Whogohost, Konga and more offer Affiliate Programs.
Apply to become an affiliate
After approval, log in to your affiliate account and access the different links and ads which you can then promote
Add the links/ads to relevant locations like your sidebar, in-content and so on.
Promote your links to maximize its visibility.
That is pretty much it. Once a reader clicks on the link/ad and buys the product you are promoting, you get a commission.
Things you should know
Promote products that are relevant to your niche. This usually guarantees a higher conversion rate, which leads to more commission.
A good idea is the promotion of products you actively use. For example, with my site, I would recommend my hosting company, Thrive leads, etc. This works for all niches. A restaurant related blog can promote cooking accessories from their favorite celebrity chef via an affiliate link to the kitchen category on Amazon.
One of its major advantages is that you don't have to create any product on your own
The ever-popular banner advertising. We all know those blogs that just litter their sidebars with ads from different companies.
That been said, there are a lot of ways to use Banner Ads without annoying your visitors.
A quick and easy way to get people to place ads on your site is to join a monetization network like Buy sell ads Services to advertise your banner Ads slot. If your site is getting a lot of traffic, you will get a lot of opportunities for other people to place their banner ads on your site.
You could also contact some big brands around you for direct advertisement.
To implement it, you place ads gotten from advertisers on your blog. You can either charge per click or charge a flat rate to the advertisers on weekly or monthly bases. The best possible places to create ad slots are the header, footer, sidebar and within the content.
The major difference between Banner Ads (direct ads) and Ad networks (Google Adsense and the likes) is the ability to control which ads you place on your blog and the earnings you receive.
How to Implement it on your Blog:
Create the Ad zones you would like to sell out and set up pricing.
Create default banners you would use in case you do not have any advertisers.
Set up your payment method. (Paypal, Credit Card, Bank Transfer, etc.)
Set up an Advertisers page where you would provide potential advertisers with everything they need to know before they purchase an adzone, like your audience interest, traffic stats, adzones, FAQ, etc. If you are using WordPress, there are a couple of plugins
Things you should know
One of the major disadvantages of Banner Ads is that for you to get solid revenue from advertising, you need to have a lot of traffic.
The larger your audience base is, the more you earn since potential advertisers are willing to pay high prices for more exposure.
This has to be the most popular method of making money online.
It is an advertising network run by Google that allows website owners to monetize their sites by showing text, images and other interactive adverts on them. Google uses the site's content, and the audience decides which ads are shown.
The best part?
It is hassle free. You don't have to deal with advertisers or worry yourself about collecting money. Google maintains the relationship between publishers (you) and advertisers. They collect payment, take their share and send yours to you.
But there's a catch.
If your blog does not bring in high traffic levels, you will not make any substantial revenue. Your blog needs to keep users on your page. With CPC advertising, you can add your ads in the header, footer, sidebar, and in-content. From experience, it is the in-post ads that rake in the highest revenue.
How to Implement Google Adsense on your Blog
Become a publisher by applying here -> Google Adsense (All you need is a Gmail account)
Once your account has been approved, you can log in to your Adsense account and get the necessary Ad codes that you would need to place on your blog. Header and in between your content works quite well.
Once you have placed it, Adsense would start displaying ads at your specified locations within a couple of hours
That is all
The amount of money you can earn per click ranges from $0.01 to $50.
Things you should know
Do not click on your ads. That is the fastest way to get banned
Don't expect gazillion dollars if you do not have a lot of traffic
Don't use Adsense if you sell things on your site. You might end up advertising for your competitors. Another option is to block your competitors Ads from showing on your website from your backend.
Doing a product review is a great way to monetize your blog. You can make as much as $100 from a single post. It is usually perfect when it is a product or service you use. There are different ways product reviews can be used to make money on your blog. You can see some wonderful examples here and here.
The beauty of product review is in the way it can be monetized.
When brands and clients see you doing product reviews, and they feel your audience is perfect for their product, they would happily pay you to do a sponsored review.
On the other hand, you can write a product review for a product and add your affiliate link to it.
How to Implement Product Reviews on your Blog
You could do Sponsored Reviews or write reviews on your affiliate products.
Sponsored Reviews:

People or Companies pay you to write a review on their product or service. You aren't always paid in cash, though. Some companies can give you a sample product that can be permanently yours if you write a review on it. It can also be an extended trial version of software. E.g SEMrush giving you a 6-month trial to write a review on their site. Or a Phone brand giving you one of their products for free so you can write a review for them.
Things you should know
Always give an honest review. If you give a product good ratings, and it turns out to be crappy, your audience sure won't appreciate that. That would be a quick way to lose their trust.
A

ffiliate Marketing

:

Now this is one of the most popular methods of making money online. You get a product or service you use; you write a review on it about your experience (usually favorable), and you add your affiliate link so your audience can pay for it through your link if they are interested. It does not necessarily have to be a product you actively use, though.
And we don't stop there.
You can also put your affiliate links to relevant contents. For example, if you write a blog post on setting up a blog, you could chip in your affiliate link to your hosting company.
Some bloggers tell their audience that it is an affiliate link, and they would be paid a small commission if the audience buys from there. Others don't mention it at all. It is totally up to you. It usually has a very high chance of converting.
Method 6: Sell Your Product
One of the best and most popular ways of making money online is to sell your own product. Your product can be an Ebook, informational products, Software like Plugins and Themes, Online Training Courses and more. Most of the top Internet marketers sell Ebooks. Either through Affiliate Marketing or their personal content.
If you are blogging on a specific niche, it obviously means you know quite a lot about it. So why don't you monetize your knowledge?
You obviously cannot cover everything you know about your niche in blog posts.
It is the most stable method of making money online since you are in full control.
An easy way of creating an Ebook is to use your existing blog content. Just pick a topic, write an ebook on it and sell it on your blog or a third party site like Amazon.
Don't forget that any product you create has to be relevant and useful to your readers. The mistake a lot of bloggers make is that they assume they are creating a product their reader needs. Understand your readers first, and then create something that would meet their needs.
You just have to figure out where your skills lie. Are you an awesome writer, developer or speaker? Create products that match your skill set and sell away!
How to Implement this method on your blog
Do a little research on what your readers want. There are lots of ways to figure out what to create. As I said before, you can sell digital products like ebooks, online courses, images, videos, apps, plugins and even themes.
Add a price tag to it. A good idea is to start small. Get a feel of what people think about buying it at that price. A good idea is to start a discount at launch. i.e. 50% off for the first 20 buyers or an 80% discount for people that order. There are many blog posts on how to use the "scarcity technique" to get users to buy your product. You also need to figure out your mode of payment. Are you collecting money via Paypal, bank transfer or both? You need to figure out what method is convenient for you and your buyers.
It is time to build a landing page that talks about your product. This landing page should emphasize the benefits/advantages your product brings. Lastly, add a buy button to the page so your users can easily buy your product from that page.
Promote! Promote!! Promote!!! Seriously without this, you can as well not create any product. There are lots of promotional tactics like Email Marketing, Social Media Ads, sharing on relevant Facebook and Linkedin groups. I would cover free and paid promotional tactics in a future blog post.
Earn your cool cash
Things you should know
You can make as much as you want. Since you are controlling the price of your product, you can make as much as you like. The quality of your product obviously determines how much you can earn.
Also make sure you understand what your readers are interested in and would pay money for. If you make something very useful, it will sell itself.
Method 7: Creating a Membership Section
This method works perfectly when you already have a large following. It turns your blog into a business. Depending on the niche you are in, you can earn thousands of dollars per month. For example, a blog that talks about career can charge users $20 per month to have access to their job board.
The key to having a successful membership site is to have valuable content that your users won't find somewhere else for free. You have to make sure you what you are developing is worth the price.
In truth, a membership site does not have to work with a recurring payment model. Some of them are just a one-time payment.
How much you can make
Picture this:
A site charges $49 per month for its Membership section
If the site enrolls 10 new members monthly, this is a rough approximate of what its income would look like monthly.
You would get $490 in the first month, $980 in the second month, $1470 in the third month and on….
Some sites charge as much as $100 per member while others charge as little as $5. It all depends on your strategy and what you have to offer. Some examples of good membership sites are Lynda.com and YummyArts.com. You can find more examples here and here.
This is exciting to think about but in reality, some types of products and services make excellent membership sites while others do not.
How to Successfully Implement this method on your blog
Set up a membership website
Install a Membership Site Plugin.
Connect to payment processors like PayPal
Protect your content with the Plugin
Develop different member levels and capabilities
Protect your files. Store them on other servers like Amazon S3
Set up private forums
Integrate autoresponders like Aweber and Mailchimp
Drip feed your content
Set up One-Time-Offers [OTO] to increase sales.
Things you should know
Choose the right topic
Create a compelling reason to join
Have top search engine ranking for words and phrases related to the topic you are targeting.
Start a Digital Marketing Campaign using Google AdWords, Paid ads, link placement, social media, etc.
It is not magic
Success with a membership website is not automatic. It requires getting a lot of things right. It takes dedication, a lot of hard work and the readiness to give customers more than they expect – continuously.
Of course, the effort pays off with a business that can generate thousands of dollars monthly in revenue.
Method 8: Build an Email List
Getting people to subscribe to your newsletters is by far the most profitable method of monetizing your website. It works perfectly when you follow up with interesting offers and relevant information.
Your email list comprises your most loyal readers. Your main objective is to convert new users into loyal readers who are interested in staying up to date on your latest content.
After building a substantial amount of subscribers, there are many ways to monetize them. You can sell your personal products to them, sell affiliate products to them, dedicated emails for third parties and more.
By default, the function of an email list is to generate a steady stream of traffic to your blog where you can also monetize them. Every time you write a new blog post, send it to your email list and enjoy your stream of traffic.
If you are not building an email list, you are losing money.
How to Successfully Implement this method on your blog
Plan thoroughly. Identify your target audience and its interest.
Choose an Email service like

Mailchimp

or

Easysendy

. These email services are perfect because it is free for your first 2000 subscribers.
Set up or Import your List. This list is where your subscribers would sign up in. You can offer them things like a weekly digest of your blog post or a specific freebie. You might also have an email list already. All you have to do is import it to your Email service and start sending your email right away.
Grow your list by putting your sign up form in prominent places like a pop-up, sidebar, in-content or after your content. It is inadvisable to have too many on your site as it would end up annoying a user.
You can find a detailed tutorial on how to set up an Email list using Mailchimp here.
Things you should know

You cannot grow your email list without driving quality traffic to your site. Guest posts, blog comments and even paid ads can be used to drive traffic to your blog.
Give your visitors freebies they have to opt in to collect. This is the most popular method for increasing your email database. If you do not have any product to offer, simply make a pdf version of your blog post as a content upgrade and watch your subscribers trickle in.
Make sure you use the right autoresponder. You can try out Mailchimp's free version if you are just starting out.
An effective call to action works wonders in increasing your subscription rate. Using phrases like "Download your freebie now" works better than "subscribe now."
Don't spam your subscribers. Nobody likes been spammed.
The more emails you have, the more money you would have in the long run.
Method 9: Build it and Sell it
Think about this for a moment,
You build a blog, build an audience and then sell it. Yup. It is as simple as that.
Ok, not that simple.
Want to know the best part?
No matter what niche you are in, there is always someone out there that would be interested in owning something like that. So, if you can establish a sizable amount of following or include advertising on your site, you might be able to sell it to someone else.
In truth, I would not advise you to sell your blog. I am all for the long-term gain of having your personal blog.
That been said, it truly is lucrative. If your site makes up to $100 per month, you can sell it for anything between $1000 – $5000. That is over 10x your monthly income. This money can then be invested into something else (like building another blog).
The amount of traffic you get on the site also matters. Obviously, sites with a lot of visits would be costlier than those that don't have as much.
How to Successfully Implement this method on your blog
Choose the Niche you want to focus on. It must be something you can write about all day.
Buy a Domain name. You can get a Domain name from Registrars like Namecheap and Godaddy.
Buy a Web host plan. Choose a good Webhosting plan with a high percentage of uptime. I have personally used Whogohost and Site5 and so, would recommend them. Whogohost is the cheapest option but with fewer advantages than Site5. Link your domain name to your web host after buying it. It is good practice and easier to buy your domain name and web hosting plan from the same company.
Build your website using a CMS like WordPress or a normal Template.
Post unique and quality content on your website. Your content must be able to positively influence the life of your target market.
Register for Adsense and integrate it with your site. You should also get some affiliate products that are relevant to your niche and add them there. Check Clickbank, Amazon Affiliates, Commission Junction and Jvoo for affiliate products
Drive traffic to your website with SEO and social media marketing. Make use of social networks to increase your online visibility.
Once your website starts making a reasonable amount of monthly income, you can now sell it on sites like Flippa, We Buy Websites or FEinternational
Things you should know
Select a niche that is growing. Make sure you also have good knowledge about it.
Drive traffic via SEO, ads and other organic methods.
Proper navigation structure, attractive theme, and layout are key points because no one would buy a website with small traffic or poor designs.
Get active on available social networks. It helps as an additional source of traffic.
Flipping Websites requires a lot of smartness and consistency to generate a sizable amount of income. Plan your website well and make sure you make a lot of profit from it. You just might not need to sell it
How much can you make Blogging?
Whether you are trying to supplement your income with a little extra cash or you have decided to create a blog that would support your lifestyle, you can make as much money was you want from blogging if you are ready to put in the hard work required.
Source: https://www.bloggingbasics101.com/how-can-i-make-money-from-my-blog/
There are lots of interesting stories of successful bloggers who make money blogging.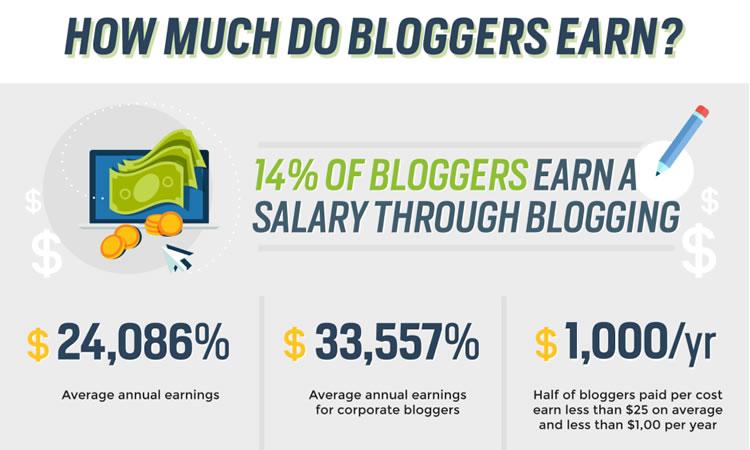 Astounding right?
Salaries for bloggers vary widely. A report from Glassdoor shows ranges of as much as $79k and as little as $19k per annum. Freelance bloggers can make anything within the range of $10 to $100 or more for a short post.
The amount of money you make depends on different factors like the frequency with which you blog, quality of your content, the competitiveness of your topic/niche, your effectiveness in building an audience/generating traffic and more.
Warning for Anyone Starting Out
Here is the thing.
Don't Quit Your Day Job
Even if you know a ton on making money on your website, (by reading this article, you have an enormous advantage over me than when I started blogging) it is going to take a while.
You are not suddenly going to get rich by reading this article.
The good news is that I can safely assure you that it does work and if you dedicate your time to your blog, and you are ready to learn from your mistake, you would be on your way to earning some big bucks.
Learn everything you can
No knowledge is too small. You need to figure out what it is you are doing wrong and how you can do it better. I love learning new things and would always be jumping from page to page learning all I can.
Of course, as the saying goes, too much of everything is not good. That leads you to my final point.
Don't waste your own time.
No doubt about it,
When you first start, you are always curious about how many visits you are getting by the hour.
Sadly,
You would just be wasting your time.
Also, reading a thousand and one blog posts on your niche to know more will kill your productivity.
You need to segment your time and stay disciplined. Focus on only the things that are useful at any point in time.
What Next?
There you go. 9 incredible ways of monetizing your blog. No matter what niche you are in, Fashion, Art, Travels, Lifestyle and more, there is always a way to earn extra cash.
If I had to guess, you read this blog post because you want to make money online via blogging, and you are interested in knowing the best way forward.
It can seem overwhelming, but honestly, it isn't. You simply have to understand the purpose of your blog and then use the right blueprint to build what you intend to build.
Got a question before I wrap up.
Do you have any tips you can share regarding how to monetize your blog and which of the methods mentioned above will you use? Please share below!