A Blueprint for Creating Profitable Facebook ad Campaigns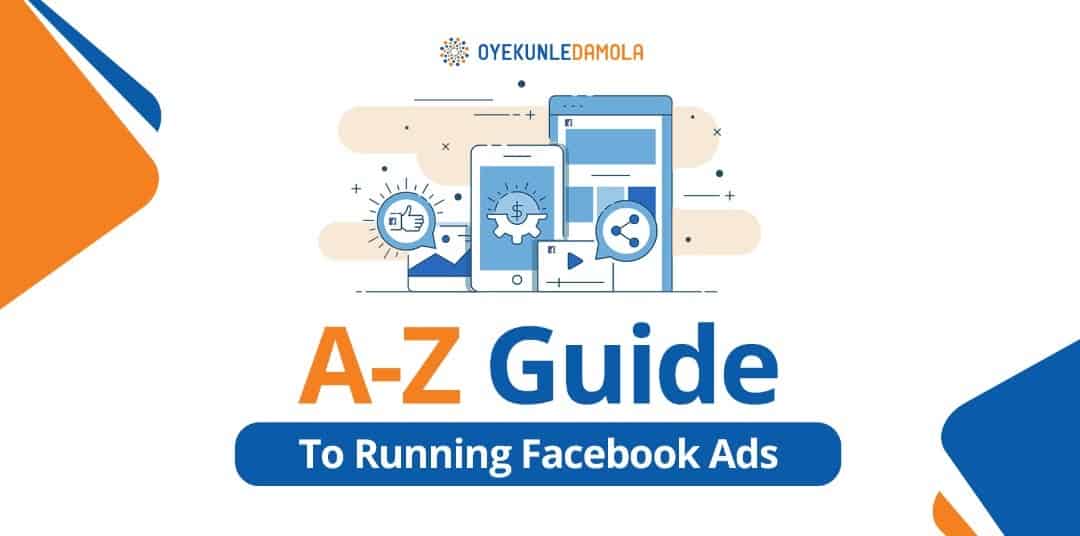 Running Facebook ads is one of the most efficient ways to advertise online. With over 2.7 billion users, Facebook provides businesses with a tremendous opportunity for growing and scaling their business.
However, setting up a profitable campaign requires a basic understanding of how the Facebook algorithm works and how you can maximize it for your business.
In this blueprint, I'll walk you through the basics you need to know about Facebook advertising to help you in setting up your very own profitable ad campaign.
Let's get started.
As a beginner running Facebook ads, you need to have a business manager, an ads account and a pixel installed. You also need to have a thorough understanding of Facebook ads policies so your ads don't get rejected and your account blocked.
Here are the main elements to have in place when setting up a profitable Facebook ad campaign
#1. Pixel
The Facebook pixel is a piece of code that you place on your website. It collects data that helps you track conversions from Facebook ads, optimize ads (makes it more successful), build targeted audiences for future ads and re-market to those people who have already taken some kind of action on your website.
Basically, these codes installed on your website enables Facebook to learn more about your target audience.
Note: It is advised that you have a website if eCommerce is what you are into. Facebook works with data, so the more data, the better your ads will be optimized. i.e shown to the right people.
#2. Facebook Ad Objective
The first thing to decide when running an ad campaign is your goal for running the ad.
Your campaign objective defines what you want to achieve with a particular ad campaign and then helps Facebook optimize your ad for the results you want.
When you go to the ad manager to create a new ad, you have to select your campaign objective and this is key.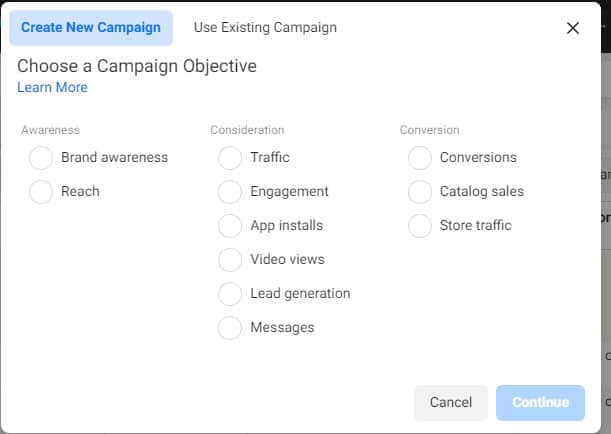 On Facebook, there are three categories of objective- awareness, consideration and conversion, with diverse objectives to select from.
For example, if you select video views as your goals, Facebook can source for those who are more likely to click and watch your video.
As one selling a physical product on an eCommerce store, here are the main business goals of a Facebook ad campaign for an eCommerce store and when to use them:
A. Traffic 
Want to lead more people to your website and blog? Then the traffic objective is a great choice.
The goal here is to send people to a particular page of your choice. This can be anything from your website, blog, landing page, app, messenger and even WhatsApp.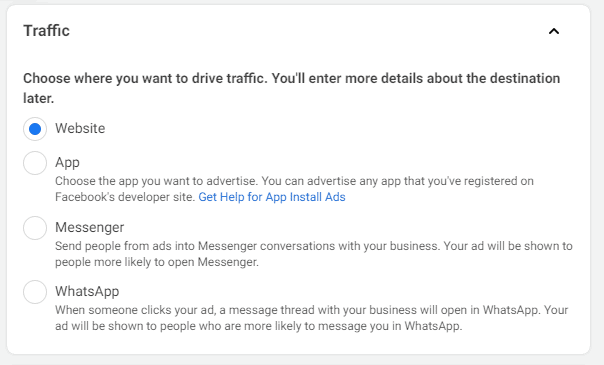 It is usually used when trying to provide users with more information about a product, service or event without needing them to necessarily take an action.
You can also use the traffic objective if you are trying to get more people to download your lead magnet or sign up for an event.
And because Facebook needs data to work with, it is a great idea to start with a traffic objective so you can gather useful data. This can also be useful in building a custom audience for retargeting purposes.
B. Engagement
This objective focuses on literally driving engagement to your ads.
So, if you are looking to get more page likes, comments, shares, post likes and event responses, this is a great choice.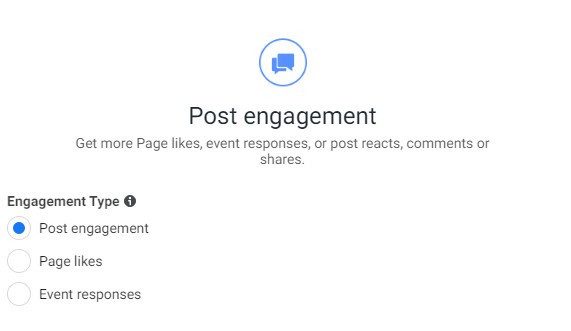 C. Conversions
The conversion objective is used when you are trying to optimize for a specific type of conversion.
For example, if you are trying to get people to buy a product.
The conversion objective is used to drive actions such as sales, email newsletter signups, get people to register for a course or an event, etc.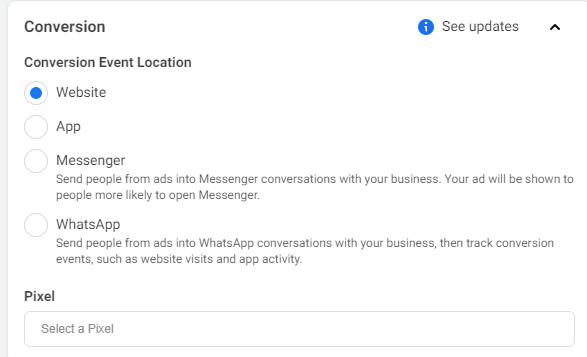 D. Messages
The goal of the messages campaign is pretty straightforward.
If you are trying to start up a conversation with people by directing them to a messaging platform such as WhatsApp and your Facebook messenger, you can use this objective.
This is where you answer their queries, overcome their objections and recommend products and services based on their needs.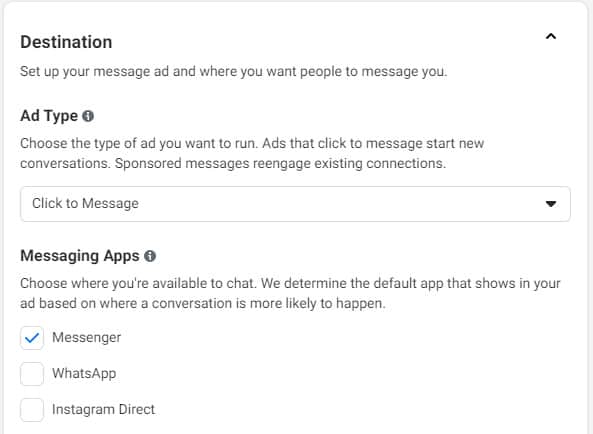 E. Lead generation
The lead generation objective is exactly what it sounds like- to help generate leads using the lead gen objective.
It can be set up with a lead pop up form that users can easily complete on both mobile and desktop.
For example, if you want your audience to download a free ebook or sign up for a consultation in exchange for their contact details, this can be a great objective.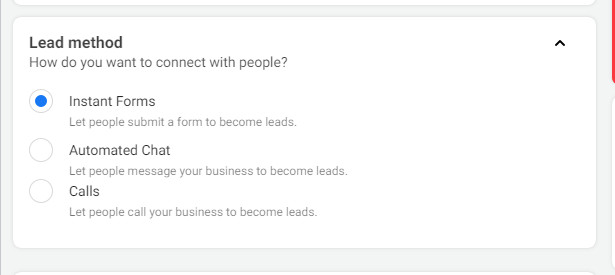 F. Video views
The video view is great for optimizing views on your video.
Here is what you should know though. You don't necessarily select the video view objective just because your ad has a video.
If your goal is to drive a different specific action with your video then a different objective that best suits that goal will be great.
But if you are trying to get more people to watch your video then this is a great objective to use.
#3. Audience targeting
Facebook audience targeting is basically the selection of people you want to advertise to.
With Facebook, you have different targeting options like targeting people by interests, age, gender, job title and much more. You can also get super specific and target people by the amount of education or their income level.
Also, you can target people who have engaged with your business or those similar to your existing customers.
For example, as a company selling cameras, you could target photographers or people who love to go on adventures such as hiking and skiing. These are the ones likely to be interested in your products so it makes sense to target them.
There are three types of targeting:
Core targeting: Broad and Laser targeting
Custom audience targeting
Lookalike targeting
A. Core Targeting
This is when you target your audience based on certain characteristics like their interests, age, location etc.
For example, let's say you have a product you want to market to people in Nigeria. After selecting your location as Nigeria, you could decide to target people between the ages of 18-55. You could also decide to target their interest, depending on your product.
Under core audiences, you can also decide to target anyone and allow Facebook to find the right people for your product.
There are two types of targeting under the core targeting: Broad and Laser targeting.
Let's check out each one.
i. Broad targeting
As the term implies, Broad targeting involves targeting anyone, without selecting their interest. When you run broad targeting, please leave out the targeting box. Facebook algorithm will find the right people for your product automatically.
There are two scenarios I advise using broad targeting.
You are promoting a product or service everyone needs e.g. Food, Barber, etc.
Your pixel is super seasoned with more than 200 purchases so facebook has a great idea of the type of people you are targeting. Usually I use broad targeting when I need to scale my ads.
You also want to make sure you have pixels installed on your web pages to collect data and then create a look-alike audience later for better retargeting.
One important aspect of broad targeting is selecting your demographics. E.G. you need to select the gender you are targeting and the age group. Everything else can stay empty. In some cases, you might also need to specify location. E.g. If you only promote your product and services in a specific state, you need to select that state.
ii. Laser targeting
Laser targeting, also known as Flex targeting, involves running ads to a specified detailed audience.
For example, when running ads targeting people for a weight-loss product, you know not everyone will be interested. So, you want to narrow and sort your audience based on their interests, previous purchases, daily activities and other relevant factors.
To start, you can use a tool like Facebook audience insight to discover the size of your audience and other relevant details you can include in your ad.
With Facebook audience insight, you already have a relatively broad audience which you can then narrow down further when setting up your ad.
For example, in the weight loss example, when I select my gender as women and select interest as weight loss, Facebook gives me a potential audience size, their location and the top pages they follow.
I can also add additional interests like related brands and celebrities. The goal is to narrow my audience to at least a population of 100000 people for each interest.
When you create a campaign, be sure not to overpopulate your interest. An ideal number would be 10. And your total reach should be around 400,000 to 1 Million. Overpopulation would yield little or no result as it might not target ideal customers.
B. Custom Audience
With this, Facebook allows you to get back in touch with people who have interacted with your business. This can be your loyal customers or people who have visited your website or used an app.
C. Lookalike Audience
With this option, you can connect with people similar to your existing customers and are more likely to respond to your ads. With a source audience, you can reach people with similar interests and traits.
#4 Budgeting
This is another key element that determines how much success you get with your Facebook ads.
And because Facebook is also running a business, the amount of your budget will decide how quickly they find the right person and how much results they offer.
For example, if you are spending $50 a day, your results will definitely be greater than someone spending just $5 a day targeting the same audience.
But here's the thing. You want to start on a small budget and then scale from there as you go.
The more you test different ad categories and measure their results, the more data you have available to scale your ads and adjust your budget appropriately.
If you are just starting, I will advise you to run a series of test campaigns and set your budget at the campaign level as opposed to the ad set level.
The purpose of this is so Facebook can automatically direct your funds to the most performing ad set.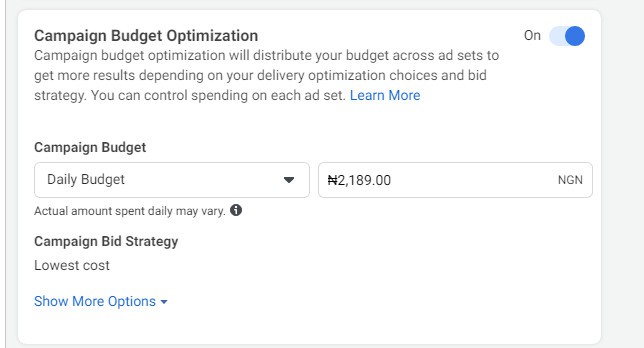 For example, if you are selling medicine for back pain, you can set up different ad campaigns with different ad copy, images, objectives and interests.
You can then select a daily budget of as little as $5 per day and allow it to run for 3 to 5 days. From here, you can always access your winning campaign and focus on that.
#5 Ad creative and copywriting
Facebook ad creative and copywriting is among the top elements that determine how well your ad campaign succeeds.
Even if you have a great campaign objective and audience targeting, you still need a great image/video and a compelling copy that captures the attention of a user scrolling on Facebook.
a. The ad creative: Image/Video
This is the design of your ad and is how it looks to the user.
You want to pay attention to not only how well it captures your audience's attention but also to the quality of your image/ video or other visual designs you use in your ads.
When setting up your design, you can select between different formats. For example, when creating a traffic campaign objective, you can select formats ranging from: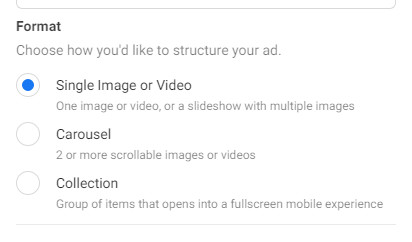 When selecting your format, you want to consider your marketing goals and also the skills available to create the needed design.
In most cases, a clear image that clearly defines your ad is best. Once you have selected your format, it is time to upload your ad creative.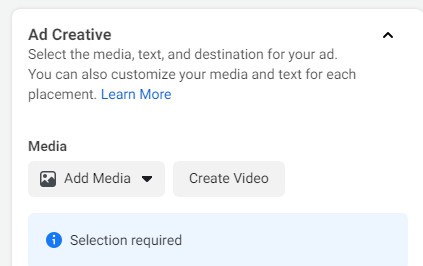 From here, you can upload the image or video you have created for the ad.
With images, you want to use an image that is descriptive, colourful and stands out from the news feed so they'll immediately catch people's attention.
For example, check out this ad by Slack. With just a short ad copy, the image used emphasizes their app's benefit.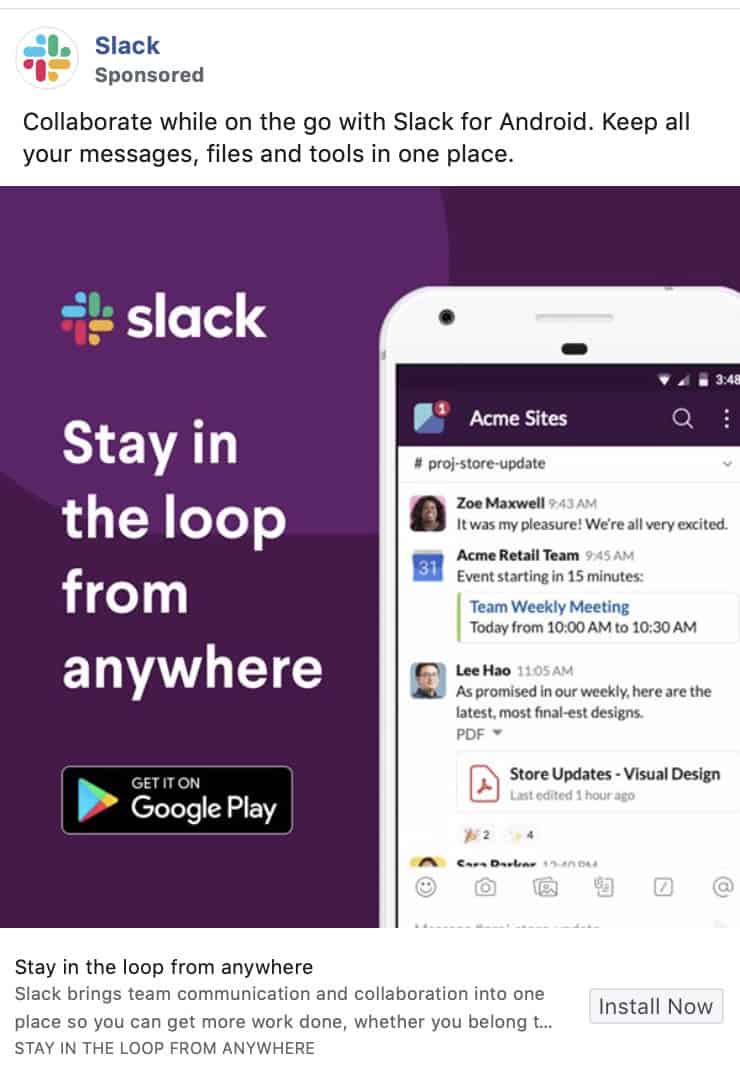 Here is another example of a high-quality product image from Ben & Jerry's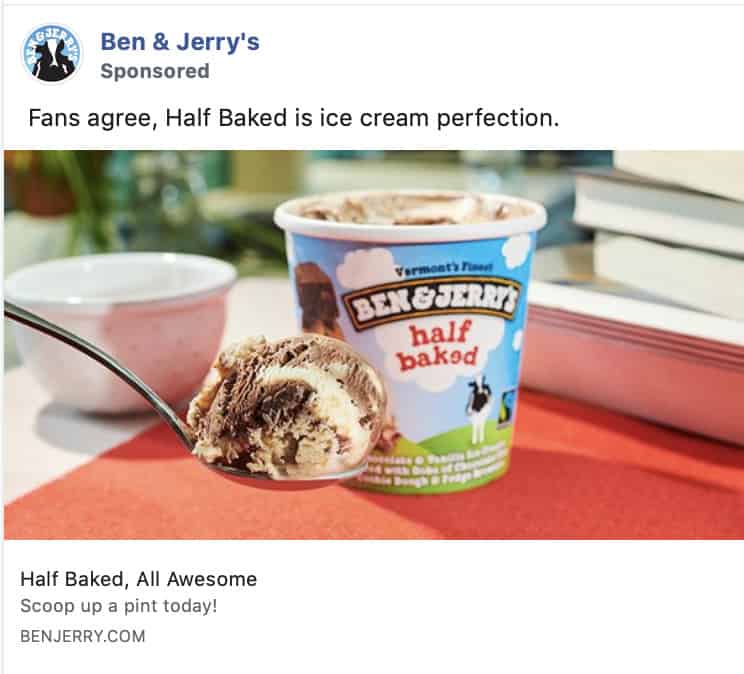 Video ads are effective in communicating your message to your target audience.
They are one of the most successful ways of creating a connection and engaging with people. When using video, use a thumbnail that stands out and entices people to click on it.
b. Ad copy
The goal of an ad copy is to convince your audience to take any action which can be anything from buying your product to learning more about an offer.
With Facebook ads, there are multiple positions where you can place your ad copy (primary text, headline and description)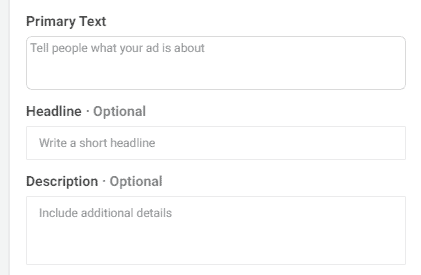 With ad copies, you want to write short, clear and impactful phrases that convince people to take the desired action.
You also want to write with your target audience in mind so you can use a language that best resonates with them.
You can also create different versions of your ad copy for your test campaign.
Now that you know the basics and coupled with the information from my Facebook Ads Accelerator Program, you are ready to start running profitable Facebook ads for your business.