With different PR and Digital Marketing companies touting their social media platforms and advertisements to instantly boost the traffic your site receives, it's easy to forget Search Engine Optimization (SEO).
I live and breathe SEO. It's my go-to method for building sustainable traffic. A lot of my friends ask me what SEO is and when I explain I hear really funny comments. So I decided to do a little research and see other things people say about SEO that are extremely far from the truth.
First, I decided to do an exact phrase match on "SEO myths" and came up with about 10+ results. The question now is, are there really SEO myths?
My collection of myths comes from different "SEO expert" in the Digital Marketing Hemisphere. Most myths are based on facts while others are just more of misinterpretations than anything else and can severely hurt your rankings.
Below are some of the most popular Myths and my thoughts on them.
[fancy_box id=9 linked_cu=2017]Click here to Get the 17 SEO Myths and Mistakes directly in your inbox![/fancy_box]
1. Adwords will boost my ranking:
Google Adwords has absolutely nothing to do with your SEO (Search Engine Optimization) Ranking. While Adwords will bring traffic to your site and probably increase your revenue, it would not affect your organic ranking.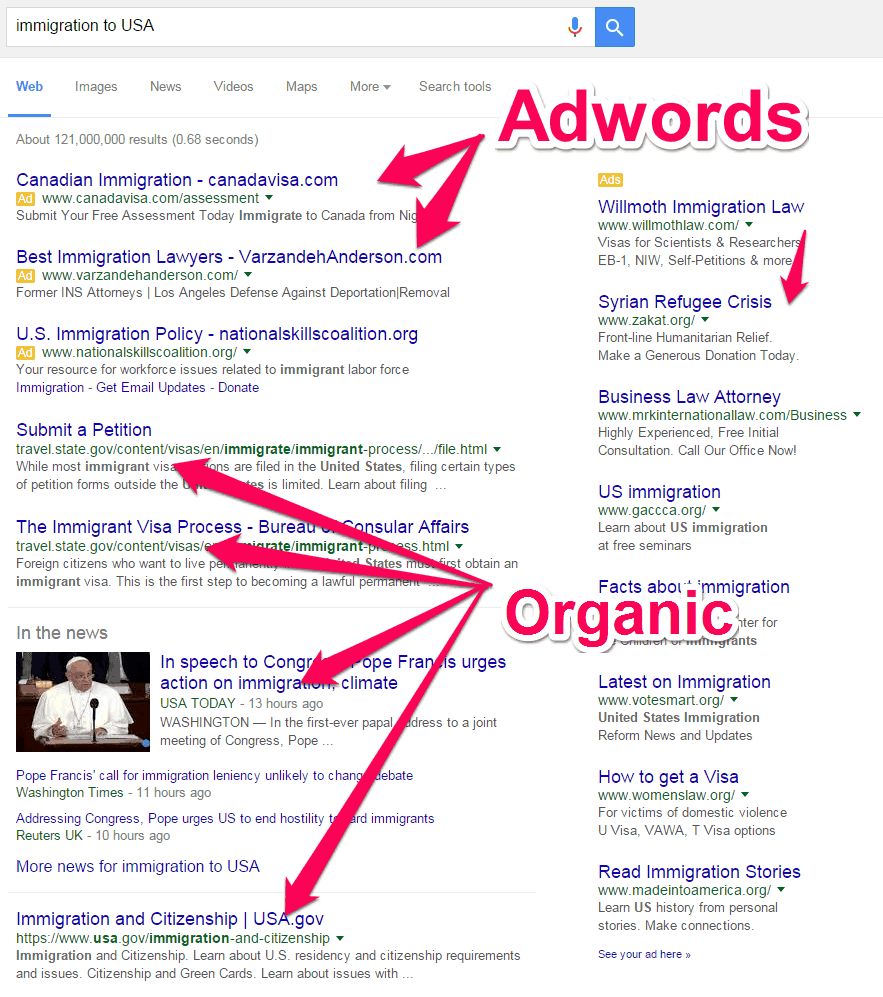 Notice how the Adwords search results are different from the organic results.
2. Many Keywords in the meta tags increase ranking
People still thinking stuffing keywords into their keyword tag and description tag would increase their search engine ranking. This is a very common SEO mistake. Google has openly declared that they have no SEO value anymore. The description tag is used as a snippet below the title on Google's result page so use this tag with normal readable language and quit stuffing.
3. Guaranteed #1 (organic) position in Google
This is my most favorite. I think the main reason why this myth has not died yet is because it's exactly what all clients want. I remember one SEO job interview I went for in my yesteryears, I was asked if I could guarantee 1st position in Google and I said given time yes I would be able to. The next question I was asked was this -> "Do you work in Google?" Luckily, I still got the job since that was my only blunder apparently.
It is very common to receive emails from SEO companies promising number one position in the organic SERPS. What these firms do is to target long keyword phrases that have absolutely no value (which users would never type) that are easy to rank for. A lot of them require recurring payments to keep your position and since the keywords you are ranking for have no use, you would be at a loss.
Note: No 1 can guarantee #1 position on Google as no one knows what the Google algorithm is for. That being said, there are some standard practices that are sure to increase your organic ranking.
4. Hiring an SEO expert is totally unnecessary and Expensive
If you want to build your website, you would need a web developer. If you are interested in putting up the website online, you get a web hosting company. If you want your website to be found in Google, then, you would need an SEO specialist. For everything about your online business, you need an expert or a specialist.
If you are a one-page firm, hiring an SEO firm would be pretty expensive. Therefore, you can start with a cheaper alternative like learning the basics of SEO and applying it to your site.
5. Applying a lot of inbound links in a short time will boost my ranking:
REALITY: One of the most popular SEO techniques on the web currently is to get as many inbound links as possible to boost traffic.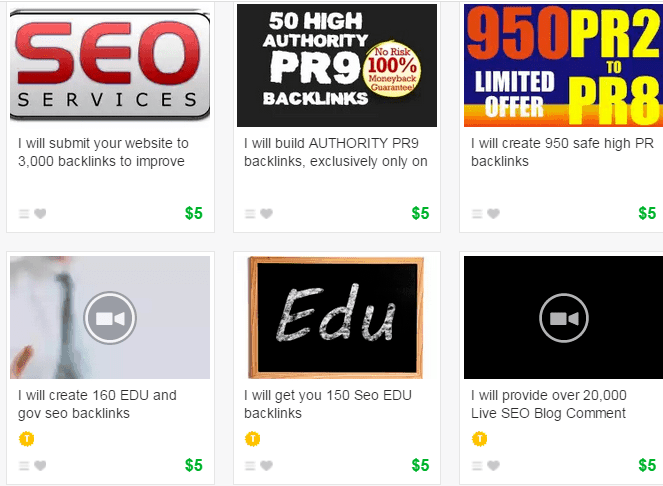 When you get an upsurge of links in a short time, it is quite obvious that the links were bought and this violates the Google Penguin update. A better option would be to build your links naturally and steadily.
6. Submitting my site every week to Google will cause faster indexing of my site
When you do this, you just might be doing your site harm. there is a probability that this might be considered as spamming. To get indexed, you actually just need at least one link pointing to your site and after which the crawler would find you automatically. This links can be gotten from Facebook, Twitter and other social networks easily. A better way is to create an XML sitemap and submit it to the webmaster tools of Google, Yahoo and other search engines with that capability.
7. You don't need to update your site to keep your rankings
When you regularly maintain your site by fixing broken links, adding new content, editing existing content and more, you are signaling the crawlers and bots to re-crawl your site for changes. To maintain or increase your current rank, you would need to make changes and adjustments to your site or else, your current position could easily drop and your competitors would take over.
8. We did SEO once
SEO is a continuous endeavor. When you 'do SEO once' and stop, your organic search traffic declines since there are other people out there who are continuously updating their sites and maintaining their SEO efforts.


9. Link Building is dead
Frankly I think it's just lazy people that cling to this belief. Different people talk about why link building is bad and is against the rules. The real truth is that the search engines still use link authority heavily in their search ranking algorithms. There is the probability that people that say this are talking about manipulative link building, the type that buy links and other spammy methods. Those methods are to be avoided at all cost as you can get a manual action for doing such.
10. I want to rank #1 for "magic keyword"
Believe me, that would not work out as well as you want it to be. Long-tailed keyword is now the way forward. Long tailed keywords are usually filled with actionable intent. A person searching for "How to increase my website's loading time" is obviously more interested in an article talking about increasing website speed. On the other hand, trying to rank for the term "Websites" would be a little pointless as the reasons the person might for searching for
websites for might have nothing to do with anything your site has to offer.
11. SEO is Easy
Oh? So how come companies still hire SEO strategists instead of doing it themselves? I believe that this myth probably stems up from the fact that when you ask most "SEO gurus" how to increase your SEO ranking, they immediately start saying things like "optimize your text", "put keywords in description and title tag" etc. If that's all there is to SEO, then it truly would be easy. True SEO is a lot more complex than that.
In truth, you would need to formulate content that suits the users needs, increase the visibility of content for both human beings and the search engine crawlers, optimize site architecture and user experience, improving website performance by increasing site speed, reducing image sizes and more, share content with targeted audience and increase exposure of site using links and mentions, etc.
This does not actually cover what SEO is about, but basically, by optimizing your website's content, you are already doing SEO and would definitely see arise in your rankings.
12. PageRank rules
This is one of the fastest ways to get money from people during link building. Them "SEO gurus" would try to sell you links from sites, telling you that those sites have a high PR of 5,6,7 and on and on and on.
In truth, PageRank is easy to manipulate and Google has said Page Rank is no more supported and is no longer a search metrics for the popularity and usefulness of your site.
13. Social Activity does not affect SEO
Google has openly declared that they do not use Social signals like Facebook Likes or Twitter Shares to rank websites, but a close study of high-ranking articles and sites has revealed that those sites have a high level of social activities going on.
Talking about Social Activities and their relation to SEO would actually need a new blog post and so, I am going to refer you to Eric Enge's Article on Social Signals and SEO
14. Google Hates me
'I have done everything possible and still, my site is not ranking'. Familiar saying? Google does not value all websites the same way. That being said, if you truly follow Google's guidelines, your ranking would increase. This is the most complete list of Google's Ranking Factors that I have seen. Do check it out and see if you have truly done everything possible to increase your ranking
15. Great content is all you need
Really? I am going to borrow a page from Search Engine Land and say, "Just like great policies equals successful politicians, right?
Having great content is the first step to getting visitors. If you do not promote the so called great content, you would get very little or no visibility.
16. I need to NoFollow my Outbound links
If you have outbound links that are relevant, they would actually help you. With relevant outbound links, Google is able to understand what your website is better. Other high ranking websites link out a lot and they do not NoFollow their links.
17. Adding an XML Sitemap to me site would Increase my Ranking
The function of a Sitemap is to help the search engines to understand your site's architecture and your content. Google has specifically said that it does not improve your ranking. That being said, you still need a sitemap 😉
CONCLUSION
WHEW!!! That was a lot. Now y'all can help spread the gospel truth by clicking on the share icon to the left 😉
Now to you. Which SEO myths are you tired of hearing that i missed in my list? Let me know in the comments.